Junk Cruises in the Andaman Sea of South Thailand
A fantastic Junk Cruise Experience on-board the Dauw Talae
IMPORTANT NOTICE: Due to the ongoing Covid situation, the operator company of the Dauw Talae Junk has decided, that they will refit the ship and continue with private charter cruises and short 1-3 days trips at a later point. We will update you as soon as new details become available.
Junk Cruises in Thailand's Andaman Sea – Experience the coastline between Phuket, Phi Phi Island and Krabi on a 5 days / 4 nights cruise on board of "Dauw Talae"
Junk Cruises in one of Thailand's most beautiful costal areas. The junk is a rustically built of wood with a combination of traditional details and modern technology. With a length of 25 meters and a weight of about 85 tons, this ship is one of the biggest and most comfortable junks in the whole of the south-Thailand sea. The ship offers more than enough space with its 8 guest- and 2 crew cabins, a deckhouse, the Quarterdeck saloon and the three sundecks, for 16 guests and up to 6 crew members. The kitchen serves a great variety of Asian and European meals. The "DAUW TALAE" complies with international security standard and is steered and navigated by its German owner and his Thai wife.
Cruises performed under sails if the weather conditions allow.
The various route plans are subject to the decisions made by the captain, always considering the security first.
The cabins are simple and rustically (no showers in the cabins).
The ship has 2 Bathrooms with shower cabins and European toilets (hotel standard) together with two outside showers.
Use of snorkeling equipment free of charge.
Other sports equipment can be rented for a charge: Scuba tanks for licensed divers, fishing tackle.
The price includes Full-board inclusive all soft drinks.
The Andaman sea of Thailand comprises a nature and marine preservation park of around 15.000 square kilometers with about 3.500 islands. In this area you are able to watch birds such as tukans or sea eagles, which are only some of the endangered species which can be found there. Most of the smaller islands are uninhabited and offer unimaginable coral- and sand beaches, which invite you for some great swimming. Gigantic and impressive limestone formations with mysterious stalactites/ stalagmites – caves and caves salience sometimes 350 meters vertically out of the water. Their bizarre forms seem to show stoned pictures of animals, made by mother nature.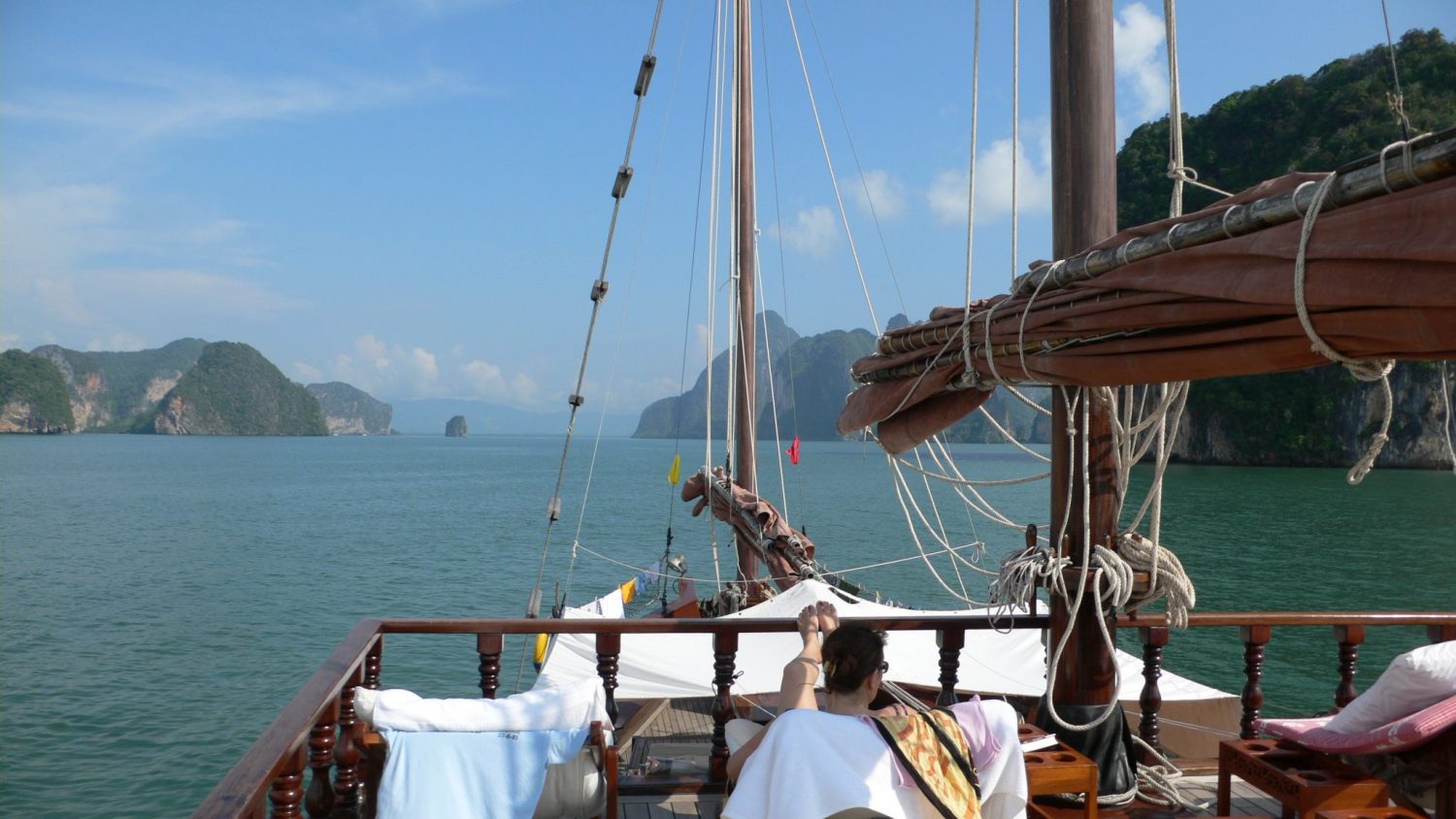 Day 1: you may embark in Krabi or Phuket – Coffee-time and Dinner on board
(If your journey starts at Phuket, – the itinerary begins reverse with the fifth day).
After departure from Krabi port we will sail along the amazing cliffs from 
Pra Nang 
.You can explore the beach, go swimming or stay on board relaxing if that is your wish. In the afternoon we will sail to Poda Island 
and anchor at Krabi's most famous Island in that coastline. There you will find plenty of time to go swimming, to relax and enjoy the sunset. A five course menu will surprise your expectations and you can enjoy the stars in the company of nice people. 
We cast anchor over night between Poda and Chicken Island
at Krabi National-park. 
According to the tide we can visit
Talae Waeg sandbank 
in the evening of day one or in the early morning of day two!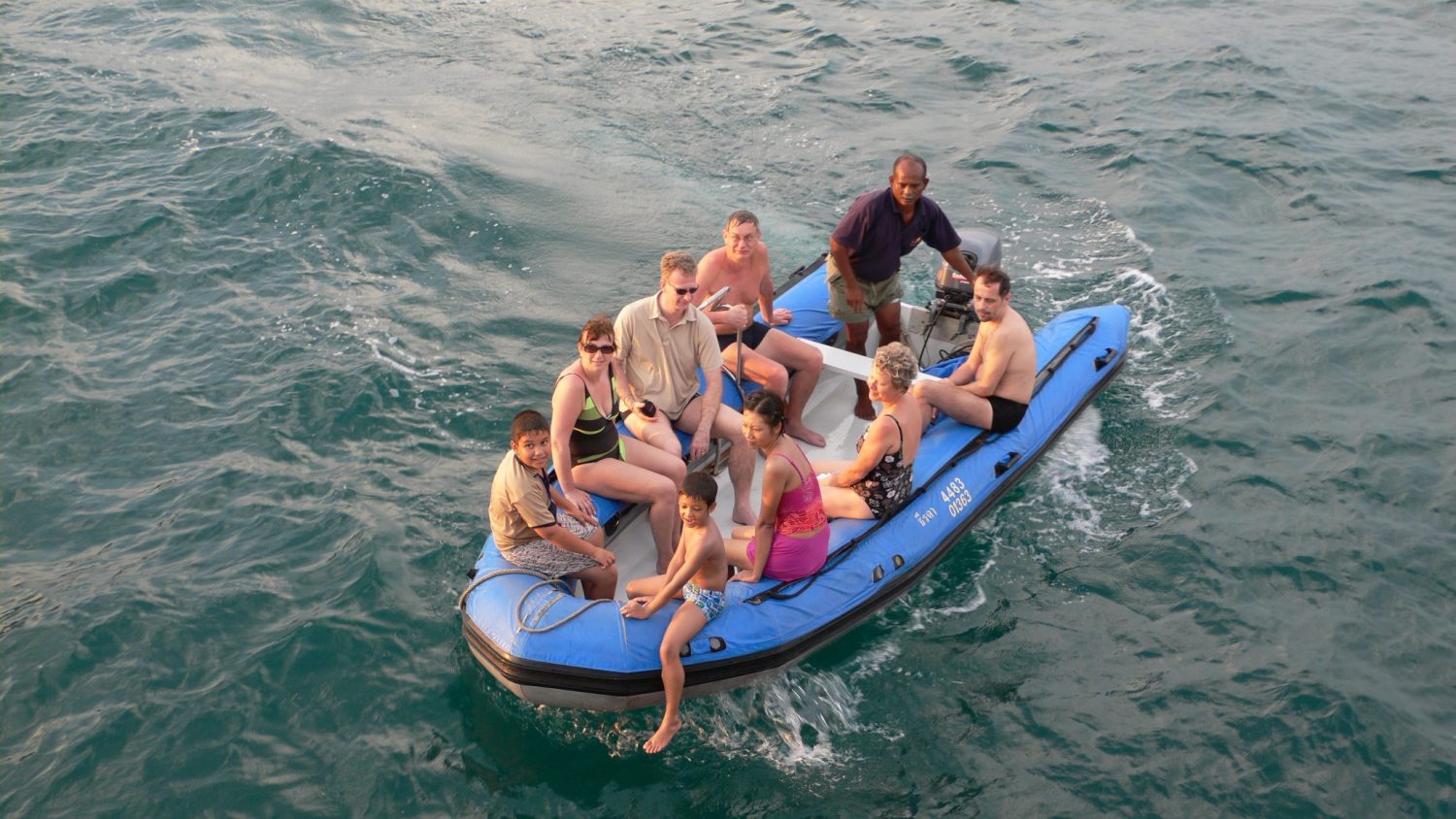 Day 2: Khor Poda to Phi Phi Island – Brunch, Coffee-time and Dinner on board.
Under sail for two hours towards Phi Phi Island with stops at magnificent Corral-Islands for swimming and snorkelling. Today you will discover the different Beaches of the two Phi Phi Islands. The hole day will be marked by activities like water, visits to remote beaches, or just relaxing on board. Usually at 5 p.m. we set sail again to reach the coastline of Pee Pee Island Just in time for sunset we sail into Maya Bay from the film "the Beach" for sundown drinks and cast anchor over night there. A fife star menu will satisfy expectations like the day before. Drop anchor over night at Phi Phi Island.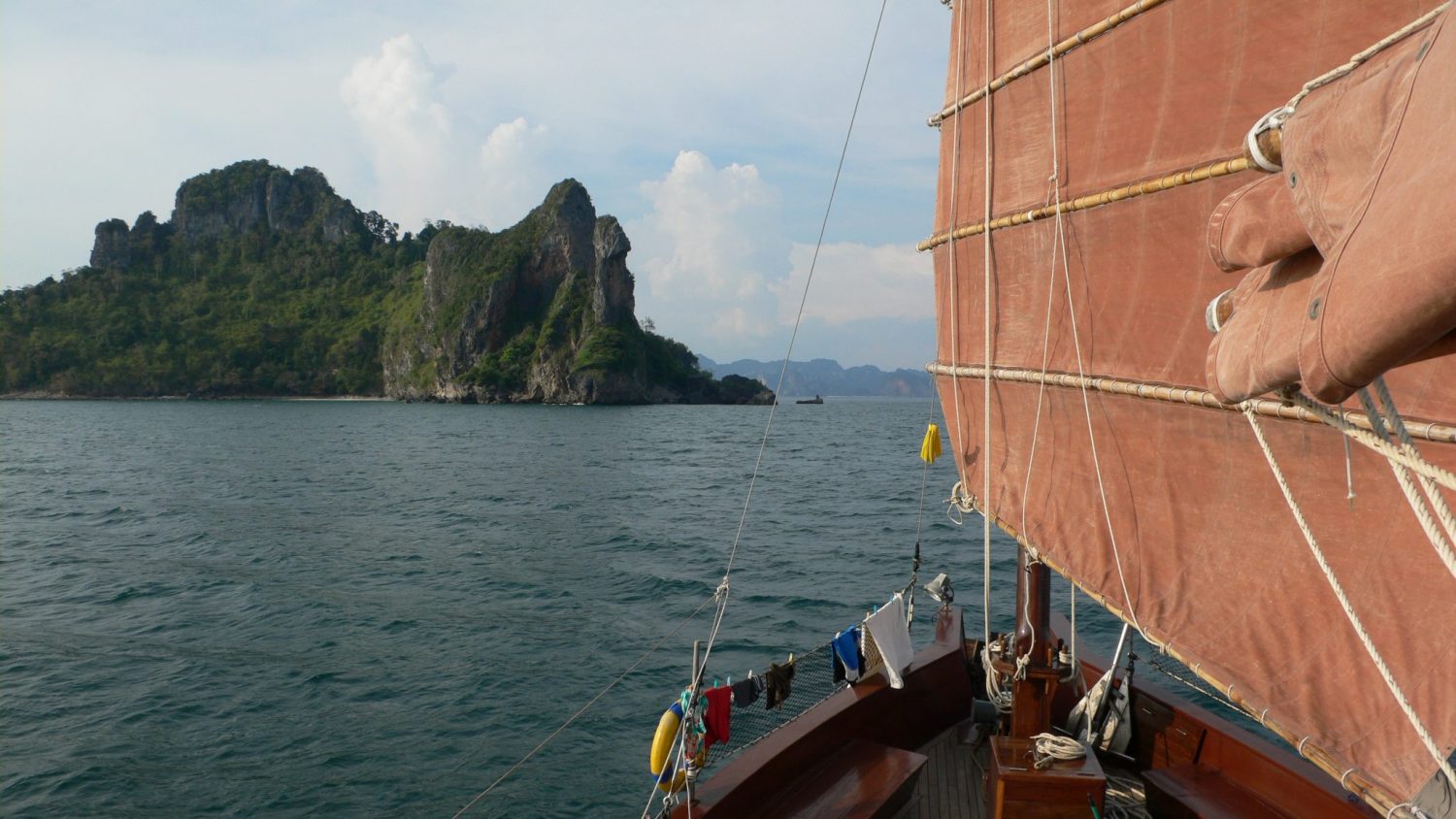 Day 3: From Pee Pee to Hong Island – Brunch, Coffee-time and Dinner on board.
The morning we have to enjoy the Maya Bay just privately. After brunch we will set sail for new snorkel-spots and some quiet beaches around Pee Pee Islands. In the afternoon the longest stretch of our journey, about 4 hours will take us to Hong Island. If the wind is with us, it can shorten the time under sails quietly. Just an hour before dusk we reach this region which its magnificent landscape. The rest of the day we take it easy, go swim or visit the beach of 
Hong island.
 We cast anchor over night in Noparat National-Park at Hong Island. 
Day 4: Hong Island Group – Brunch, Coffee-time and Dinner on board.
Today we will visit the different Islands of Khor Hong's rock formations. Tiny beaches and lagoons are wonderful to explore. According to the tide we will decide which of these dozens of hidden coves gives easy access. Some "Hongs" = "rooms" can be visited only at low tide and some others only at high tide. We have the whole day just to pick the right places and right time. A kayak excursion through a fantastic cave-labyrinth can be arranged for a extra charge of 16,- Euro/p. Cast anchor over night at Phang Nga Marine National-Park. 
Day 5: Phang Nga Marine National park – Brunch on board.
The last morning is located in the middle of an incredible scene with uncountable stalactites and rock-labyrinths. The early morning light dip the whole landscape in mythical colours and shades. This scenery was location for many famous movies. After brunch it will take three hours to the pier of Leam Praow. There you will disembark at 12:00 a.m near the Phuket Yacht Haven. 
Announcement:
Boarding: 12.00 a.m. Departure: 13:00
Disembarking: 12.00 p.m.
Useful to bring along: Small flashlight, beach shoes and a spare towel.
Tours starting from Phuket will be reversed.
All parts of the cruise and schedule are under the safety consideration of the captain.
The cabins are simple but spacious ( no showers and toilets in the cabins ).
The ship has 2 comfortable and tiled share-bathrooms with shower-cabinets and European toilets (hourly cleaned ) and 2 warm-water outside showers.
Snorkel-equipment is free of charge on board.
Additional sport equipment for rent: Dive-tanks, fish-trawling gear.
SCHEDULE
For all journeys, we guarantee operation with a minimum of 2 guests
Price incl. full-board and lodging including unlimited soft drinks – per person sharing a double cabin. ex KRABI or PHUKET.
No transfers included!
50 Euro National Park & Harbour Fee per person will be collected at the end of the journey!
| Start Date | End Date | Days | Route |
| --- | --- | --- | --- |
| | | | |
| | | | |
| | | | |
| | | | |
| | | | |
| | | | |
| | | | |
| | | | |
| | | | |
| | | | |
| | | | |
Price per person sharing a double cabin: xxx.- Euro
The National Park & Harbour fees of THB 1,500.- (around 50.- Euro) per person are not included
in the cruise price and will be charged on board.
Price incl. full-board accommodation (breakfast, lunch & dinner, soft drinks, afternoon tea/coffee).
50 % deposit is due for securing the reservation and rest payment latest 1 month before the cruise date.
Gratitudes for the crew: We recommend 5 Euro per person / day
Cancellation Policy:
up to 90 days 30%
90 – 21 days 50 %
21 – 8 days 75 %
7 days or less 100%
The tour routing is subject to change without advance notice
The Dauw Talae on German Arte TV
(This video is in German language)